Programs for Teens
Be Your Biggest Champion –Self-Esteem Workshops for Teen Girls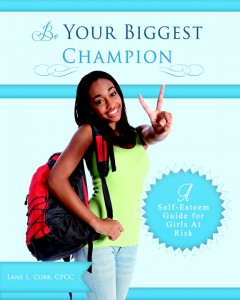 In a world filled with violence, sexual permissiveness, and disempowering images of women in the media, our girls need strong role models and effective interventional strategies that will interrupt the cycle of disenfranchisement that leads to risky and inappropriate behavior. Girls need to know that they are valuable, that they are loveable, and that they have the power to change their lives for the better.
Be Your Biggest Champion Workshops offer girls a new way of looking at life, and motivates them to begin taking responsibility for the actions and the attitudes that shape who they will become, and what will be possible for them in the future. I know what it is like to feel unloved and un-loveable. I know the pain of disenfranchisement. I know what it feels like to compromise ones values in order to be popular or to avoid ridicule. And, I know the importance of giving our girls hope, of showing them how to appreciate themselves for who they are, of giving them a platform for self-expression, and of teaching them the value of self-respect.
My mission is to provide emotional and spiritual support to girls who have no one supporting them, to envelope them in love when they feel they have no one loving them, to teach them how to respect themselves when they feel that no one is respecting them, and to listen when they feel that no one is listening to them. Through these efforts, teen girls find their voices, appreciate their gifts, cultivate respect for themselves and others, and learn to take responsibility for themselves and their actions.
Contact Me for MORE INFORMATION on TEEN PROGRAMS