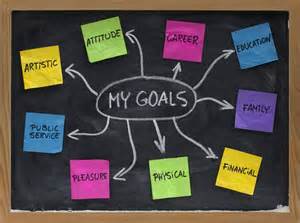 There's no doubt about it – powerful people set goals.  They identify what they want and create a plan to acquire it.  Let's face it – when you don't know what you want, you won't know when you've got or how to get it.
In the same way that you can't get somewhere without knowing where you are going, you cannot achieve your dreams without charting a course to get there. 
Many people are goal-averse, afraid to commit for various reasons (fear of failure is the most common).  And, it's easy to convince yourself that you don't have to set goals to achieve your desires.  However, the studies overwhelmingly support the fact that people who set goals are far more likely to achieve what they desire than those who don't.  There are several reasons for this.  One is that the act of setting a goal creates spiritual and emotional energy that acts as a magnet, which actually pulls your goal closer to you.  The other reason is that a real goal not only includes an outcome, but also includes measurement criteria and timelines for completion, which help you maintain focus and direction.
One of my coaches was known to say "What gets measured gets managed", and he's right.  If you don't know where you are going, you will have no way of charting a course, nor will you know when you have arrived.  It's important, therefore, that the goals you set fall into the category of S.M.A.R.T. goals.
S – SPECIFIC – The most effective goals are conceived and recorded in very specific terms.  It's not enough to say "I want to get more clients, or I want to make more money".  To get the true power of setting a goal, you must be more specific.  How many new clients do you want?  How much money do you want to make? You must dare to be specific about what you want to create.  It takes courage, but you can do it.
M – MEASURABLE – Measurability and specificity go hand in hand.  Again, what gets measured gets managed.  You are much more likely (and able) to track your trajectory and your results if you have a means by which they can be measured.  Being specific about how much money you want to earn not only gives you a clear goal, but also gives you an idea of how you can track your goal.  An example of a measuring your progress would be checking your bank balance each month.
A – ACTION-BASED – To be effective, goals must always be based in taking action.  Thinking about taking action isn't going to bring your goals to fruition.  You have to take some action if you want to produce a result.  Even if you don't meet the mark, the shift in your energy will have lasting consequences.  You'll have more power, more clarity, and more determination than you had previously.
R – REALISTIC – Because of the personal nature of goals, in order to be effective they must be realistic.  It's not unusual for people to set goals that are inappropriate because they are comparing themselves to others or tuning into societal norms that aren't specific to where they may be in their process.  For a goal to be effective it must resonate with you in a way that motivates you to do what is necessary to achieve it. Any goal you set will be useless if it isn't achievable.
T – TIME-BASED – Any good goal will have a timeline attached to it. If the goal is large enough it will be broken into steps, each of which will have its own deadline. The failure to create a deadline for each goal and action step is almost a guarantee that you will not achieve your goal, because you will not have been in action to do so.  You MUST set deadlines!  If you miss it, you can always set a new one.  But, do your best to give yourself a date that will make you take action NOW!
Need help setting goals and sticking to them?  CONTACT ME for a complimentary 20 minute consultation.  Learn what stops you from reaching you highest potential!
Lane Cobb is an author, speaker, and spiritual empowerment coach, committed to helping women and teen girls discover their worth, embrace their gifts, live their divine purpose, and achieve their full potential. Her books, programs, and services can help you obliterate your blocks and build a better life! Are you ready to reclaim your power? www.LaneCobb.com